All course prices include GST . . . . . We work seven days a week . . . . . Morning, Afternoon and Evening sessions are available . . . . . Now accepting online payments. Please call us in advance if you like to visit/ meet in office . . . . .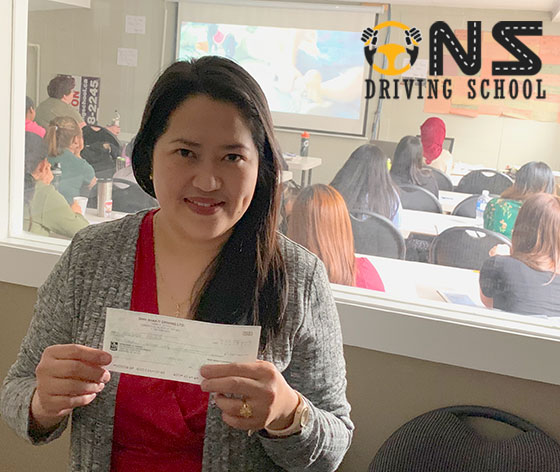 Congratulations to Michelle Parlade
Our Winner won $500 through our Referral Lucky draw held on June 5, 2019. Results for next draws will be announced on December 25, 2019.
Hurry up! refer a friend and get a chance to win $500.
OUR IN CLASS SCHEDULES
Students have 3 options to complete 15 hours classroom session. To know more about Upcoming Class Schedules Please Call us Now.
One Weekend Saturday and Sunday.
Two Weekends – 2 Saturdays.
Two Weekends – 2 Sundays.
** GST Included ** We offer our students a full range of
Read More
Register
GST Included
** GST Included ** We offer our students a full range of driving
Read More
Register
GST Included
**GST Included ** Mainly intended for the people who come to
Read More
Register
GST Included
MEET OUR 1,000+ STUDENTS WHO PASSED
Student Name
Student Name
Student Name
Student Name
It was a great experience having Sam as my instructor. He is very knowledgeable, friendly and I am a very confident driver now thanks to the help of Sam, Pradeep and the ONS team.
I received my drivers license today on the first try. I have avoided getting my license for years due to anxitey. Hardeep was an amazing instructor and made me so comfortable behind the wheel.
Right now I am so overwhelmed with happiness since yesterday as I passed my road test the first time. Words are not enough to express how grateful I am with my driving instructor.Mr.Sam and the ONS Driving School.He taught me everything I needed to know quickly and went into details about important things to be wary of whilst on the road. I would definitely recommend his services to everyone. Thanks Sam and pradeep.
I just got home from passing my driving test on my first try. I couldn't have done it without Ons Driving School and my instructor Sam.
I highly recommend this driving school to any new driver looking to get their licence. Honestly before starting my lessons my parents were a little nervous and hesitant about me driving, they thought it would be a bit of a challenge for me to get a hang of the road because of my very little driving experience. However, just after the first lesson they were much more confident and as was I after meeting my instructor Gurjot Bisal. Gurjot was very patient with me and made sure that I fully understood everything before moving forward. And keeping my school schedule under consideration he was very understanding and booked every lesson to accommodate timings that fit me best. I appreciated the constructive criticism and can safely say that is what has made me into a more knowledgeable and safe driver. During my lessons my instructor not only taught me the rules of the road that I would need in order to pass my road test he also made sure I was confident and comfortable with myself so I could drive safely in the future. And I can gladly say I passed my Class 5 GDL road test on my first try and would definitely encourage others to enroll themselves in ONS driving school.
The experience provided by the ONS driving school was excellent! They patiently and diligently explained the rules of the road in a concise manner. I also want to make a shout out to Sam, one of the best driving instructors. He always explained to me my mistakes in an understanding and clear manner. Thanks Sam! With the help of ONS driving school and its staff, I was able to pass the road test on my first try. Thanks guys!
I got my license first attempt with the help of ONS driving school Instructor Sam Rawat. He is very passionate about giving you all the knowledge of driving safely, cautiously, and attentively . I recommend all my friends and family to him
I think everyone should go ons driving school because they are very good because they put so much effort to teach me.i finally got my license thank you so much Pardeep
I am in my early-mid twenties and thought I would never get my license due to anxiety. Thankfully, my instructor Gurjot was extremely patient with me and provided me with the knowledge and skills to increase my confidence on the road. I passed my test the first time! I highly recommend ONS, but more specifically Gurjot, he is very calm in the passenger seat and will make you feel comfortable behind the wheel!
I have Jasvir as my driving instructor and I couldn't ask for a better one. She is patient, very clear with her instructions, tells you exactly what you need to know and what you need to learn. She made my driving experience fun and less scary than I thought. I highly recommend her if you need a driving instructor.
My instructor was Sam. He was helpfull and funny. But the most thing I liked about him is that he was really honest I did the test and passed on firs time. Thnx man.
I extremely appreciate how Ms. Hardeep helped me passed my driving test in November. It was the second day of the first snowfall of 2016, and as usual the road was super slippery. To cut my story short, despite having a hectic week and an unpredictable weather, Ms. Hardeep managed to open her sched for me to practice driving on a busy and slushy road once more. For me, that is truly meaningful as it helped me feel more comfortable and safe in driving. Thank you once again Ms. Hardeep! I will surely recommend ONS driving school to my friends and colleagues!
Amazing course. I went from having no confidence with driving, to having my licence and my own car in 2 weeks. Thanks a lot Santukh!
I just got home from passing my driving test on my first try. I couldn't have done it without Ons Driving School and my instructor Sam. I had very little driving experience before my 10 hours with Sam but Sam was very patient and very informative throughout my classes.
Passed on first try largely because of my instructor gurjot. Went into ONS with very little experience, and I just passed my road test with no deductions. gurjot was great. Extremely calm, and helpful when teaching me to drive. Would definitely recommend to anyone.
I passed my driving test today on my first try. My instructor was Sam, and he was outstanding. Sam was very knowledgeable and patient, and I have yet to hear of a more experienced and effective driving instructor.
I'm being brutally honest, it was a long journey and contained a lot of anxiety. My instructor was Sam and he gave helpful tips in order to get me to where I am today. He was flexible with time and if you need to cancel a day due to sickness or work, easily he will allow you to reschedule. There was a little miscommunication here and there but in the end we are able to work it through. ONS is very affordable and acessible to whoever is north side. The classes are on weekends and I believe it is 9-5:30 and you're set for the written portion. If you work, book off a few days in advance and trust me your experience with driving will go smoothly!
I had been wanting to get my license for so long but was hesitant because i was a bit nervous to drive, but Prabhdeep really helped me to feel confident and i ended up passing my test on the first try! I finished my online and in car in a total of about 2 weeks. It was a great experience for me!
I recieved my licence on my first attempt with my instructor Jasvir. She was extremely helpful in every way possible, she makes you feel comfortable and confident in your driving abilities. Jasvir had many helpful driving tips to help out in become a great driver. Thank you so much ONS for a great experience!
Just did my driving test today, and passed it the first try.
Jasvir has been very very supportive and very flexible with time.
I highly recommend them.
I got my driver's license today in first attempt. Thanks to ONS driving school for your support and help specially to my instructor Mr. Sam. I already had an experienced in driving in the Philippines but traffic laws here is totally different. Good thing that I chose ONS,I gained a lot of knowledge with regards to traffic rules. And was lucky that it was Mr. Sam happened to be my instructor. He is friendly and nice person. He shares a lot of important tips which can be easily remembered. His patience in teaching help me to have confidence, i just absorbed all the things he taught to me. And so thankful to him, because I am already a gdl 5 license holder. I recommend this school for those who want to get their license in first attempt.
I just got my license yesterday and I couldn't have done it without ONS Driving School! My instructor Sam was so helpful and had many great tips along the way. I had an amazing experience with ONS
I would like to thank ONS driving school for giving me the knowledge and confidence in order to pass my class 5. My instructor was Hardeep. She was a detailed teacher who clearly wanted her students to succeed. I will never forget rhe valuable exerpeixnce. Thank you very much!
Although I passed my class 5 GDL in the second try, my instructor was with me every step of the way, encouraging me and it is also affordable. very friendly instructor, Jasvir Kaur. highly recommend this school. Also remember to do practice on your own as well.
Before I started ONS driving school, I had went for my road test 3x and failed with "F's". I then decided to look into ONS driving school since everybody I know talks about it and they have amazing reviews. Everyone was right, I called up ONS, my driving teacher was SAM. R He is caring, friendly and most of all funny. He is such an amazing person! Bless his heart! I did 3 hourly lessons with him, I learned so much, my driving is now excellent and I'm 100% confident when I'm on the road now. I went for my road test today, & I passed!!!!!!!!!!!! I'm so greatful and thankful that I got SAM as a teacher! He is amazing!!! THANK YOU SO MUCH ONS!!!!!!!!!
I would highly reccomend O.N.S to anyone they have very good pricing and the instructor Sam is very friendly and patient 10/10 in service
It was a great learning experience with sam! He is a very professional instructor. He is very friendly, very thorough and knowledgeable. I will Recommend Sam and ONS driving to all my friends and fami!! I passed my road test in my first attempt itself. Thank you Sam!
The instructors are very nice and good at teaching exactly what you need for your drivers test, as well as rules of the road to make you a confident driver.
"I would like to say a huge thank you to ONS Driving School and instructor Mr.SAM his help and guidance made me feel more confident on the road and he was great in helping to ease my test day nerves, allowing me to pass first time.He was also always very confident with me in the sense that I was able to pass my test – this gave me a lot more confidence and belief in myself.With in a month i got license. Thanks Sam and in class instructor Pradeep
Amazing team!
I had a great experience with them. They gave me confidence that I needed to improve my driving skills and were very helpful to getting my license.
Pardeep is awesome, friendly, professional and the best instructor.
Prabhdeep is nice, calm and encouraging.
Extremely impressed with the quality of instruction and service.
Highly recommend
Great service really helpful instructors with alot of useful skills i have learned, highly recommend this school they will not let you down!!!
-SHOUT OUT TO SAM MY DAY 1
A big thank you to the ONS driving school. Special mention to my instructor SAM who is very patient, supportive approachable and friendly.
Leo Premian
After a lot of research, I decided to go with ONS Driving School due to their spectacular ratings. I can assure you that you will not find a friendlier or more supportive group of instructors. Thank you so much Jasvir for your patience and all of the valuable lessons and techniques you have given me for the road. I couldn't have done it without you!
good instructor. very nice.
Today I got my 5GDL license from the first shot. I wanna say thanks to Sam, he was my driving instructor and I would say the best ! Also the in class teacher was great!
All of the staffs working in this driving school are amazing. They are friendly, easy to approach and have lots of patience. Pardeep, is the one giving the lecture inside the classroom. Very professional and smart. Luckily, Sam is a very good instructor and he always remind me that I'm gonna be a okay. I passed my road test and I will always be thankful for these people who taught me the rules on the road!
My instructor was Sam and he really made sure to teach me everything thoroughly but also made an effort to get to know me. He was beyond helpful and his kindness was always welcoming. Sam's the man.
My instructor Prabhdeep is very nice and very good at giving instructions on road-.. Also, she makes good constructive criticisms. I passed because of her.
Jasvir was a kind and calm instructor. She was informative and very helpful when it came to telling me which mistakes I was making and how I could solve them. She seems like she genuinely cares about her students succeeding at driving.
I would like to thank Nour for being a patient and kind instructor. She knows exactly when your'e ready enough to do the road test. I fully recommend Nour as one of the best driving instructor.
" I would like to give a special thanks to Pradeep Sir and Sam Sir for being such great instructors. Both of them were extremely professional and patient. Thanks once again!!!"
Thank you so much Baiju Ummachan. Every day, driving with my teacher I learned so many things about driving safely, smart, and confidently. I was NEVER NERVOUS with Baiju, he will always be my favourite driving coach/teacher that I will ever have. The course that I have taken, was the 10 hour on road lessons including 15 hour in class lessons. I knew that i needed to learn a lot about driving, and I am so satisfied that I agreed to this course. I will recommend this driving school organization to my family and friends. fantastic!
I highly recommend this driving school to any driver out there. My instructor Sam was extremely patient with me and taught me a lot of things need to know to drive independently and safely. I passed my drivers test easily with the help of my instructor and this driving school.
My daughter took a few lessons to fine tune her driving before her road test. Sam was awesome. He booked the times with us personally. He was flexible, on time and helped her relax. She passed with only 20 demerits. Highly recommend them for anything you need.
I could not have got my licence if if weren't for my driving instructor, Noor. I am very thankful to have had Noor as a driving instructor. She is very passionate about giving you all the knowledge of driving safely, cautiously, and attentively. Before enrolling into driving school, i had very little driving experience. My driving was not the best at the beginning of my driving lessons but by the end of 10 hours of driving with her, my driving and knowledge of driving on the road improved significantly. I was recommended by family to get lessons from her and I would definitely recommmend everyone to go through Noor and ONS!